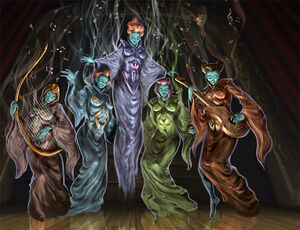 Description
Sisters of the Song is the
fourth
boss encounter for
Together in Eclectic Dreams
(Area:
Medea's Song
). As with all bosses, Sisters of the Song can also be battled in a
raid
with 4 available levels:
Normal
,
Hard
,
Legendary
and
Nightmare
.
Loot
Lore
Enter battle
[Your fingers across your harp do dance,
Slender and dexterous, as true as a lance,
That strikes the great monster in its blackest of hearts,
And brings joy and glory as a new age it starts.
A second tune rises from Xalis' fingers,
It embraces your tune, caresses and lingers.
Then come two tongues, elven and soft,
Singing the tune and sending it aloft.
The great epic poem is formed in the air,
A cry to the heavens from voices so fair,
Of great heroes, their bodies now dust,:
But their deeds remembered, as ever they must.
Battles and victories, hearts sundered by loss,
Wandering men and the world they did cross.
Dragons and demons, men, orocs, and elves,
Gnomes and felpuur, and the great gods themselves.
All these things flow in and out of the tale,
Swept through the shadows as the night you regale.
Medea is perfect, her harp and voice one,
Xalis is magnificent, not to be outdone.
Together you do what no other two could,
Your song shakes the rafters and trembles the wood.]
CHORUS
Behold, human friend, who wears the form of an elf,
See the shapes forming, and master yourself.
For the Sisters are here, the songstresses five.
But now is the hard part, if you wish to survive.
[The chorus' grim words echo inside,
As a piercing melody seems to deride,
All the achievements of man, woman, and child,
Our little forays into the world of music so wild.
Five eldritch forms take shape in the dark,
With flowing dresses and magical spark.:
Music surrounds them like an eldritch haze,
And somehow you know it's on doom that you gaze.]
SISTERS OF THE SONG
Foolish children, so haughty and sure,
Dare come to this place, and knock on our door!
You think to summon us, like lowly arcane creatures,
An imp to amuse you, djinn to serve as your teachers?
We Sisters must punish your so frivolous use,
Of our name and our song, and cut your souls lose.
Death is the punishment, the price you must pay,
With our powerful music two elves we shall slay.
XALIS
Wait, Sisters -- hear me! Listen and heed,
This was my doing, born of my need.
Medea is innocent, please leave her be-
SISTERS OF THE SONG
Ever so touching, but tiresome are thee.
No mercy we grant, no quarter we give,
Death is upon you, neither shall live.
[Xalis leaps forward, before you can stop him,
Playing his harp, singing a war hymn.
And the Sisters do twitch, as though in pain,
Music is a weapon, these creatures' bane.
You strike your strings too, to vanquish this dream,
But it's too late -- soon comes the scream.]
MEDEA
Xalis!
[You cry out, breaking your song,
One single word, drawn out so long,
Till it becomes a dirge, marking his end,
A dead elf's name, screamed by his friend.
On the stage he lies still, slain by their tune,
His soul sent from flesh, from his mind freshly hewn.]
SISTERS OF THE SONG
A bold elf was he, but it meant little,
For your weak songs we care not a tittle.
One young bard has perished, another must die,
Till the whole world the same thing does cry:
The Sisters must be feared, mortals must shudder,
And never presume to call upon us other,
Than at the times lain down in musical lore,
When you appease us and our blessings we pour.
MEDEA
Damn you, you bastards, you chorus of whores!
You knew this was coming, you gave us no pause.
Xalis is slain, and you just stood by,
If it's in my power, at my hands you'll die!
[Your anger is strange, your rage a surprise,
Why are there tears and murder in your eyes?
A character from an unreal realm has been killed,
And yet sorrow and vengeance your breast have filled.
This realm is different, not like before,
Yet you have no time to ponder that more.]
CHORUS
We're sorry, human, it had to be so,
For you to be free, and on your way go.
This elf's death happened so long ago,
He could never be saved, that you should know.
But one thing remember, and burn in your mind,
Some things are true, and vengeance you'll find.
These Sisters are real, not made by her thoughts,
In this realm they dwell, and can their destruction be wrought.
Revenge for Xalis, and freedom for you.
Come, human, act -- what else can you do?
SISTERS OF THE SONG
Enough, choral spirits, we tire of your chatter,
You've told your tale, for what it may matter.
We were content to perform, play out our role,
Enact a fine drama, with song and with soul.
But now you've spoken, we may drop all pretence,
We have nothing to fear, need make no defense.
Human, we see you -- in the skin of the bard.
An elf-woman we met, and struck at so hard.
Her friend we did slay, though she escaped,
For help was at hand, and survival she scraped.
But now there is no one else, just you and we,
And in this musical realm your tomb shall be.
[The truth of the matter starts to form in your thought,
Triggered memories rising to show what they wrought.
But the past must be set aside, the present put first,
Lest you die in this place, your spirit be burst.
A musical battle, a contest so strange,
That's what you face, and nothing can change,
What fate's thrust upon you, in this eldritch place,
Death and survival both fly at your face.
But you're not unarmed, not helpless and weak,
For mighty weapons you don't have to seek.
Medea's song dances on the tip of your tongue,
And from the strings of a harp a tune can be wrung.
If melodic warfare now must be waged,
The Sisters will find you a demon uncaged.]
Victory
MEDEA
Is that really all you've got, you sonorous bitches?
Beings of pure song, and you still can't match my pitches.
Your tunes are pathetic, your music a jape,
(Though, yes, I admit this realm I did rape,
With my untalented presence, my unmusical head,
I tore up the melodies, and left them for dead.)
But whatever the reason, you time here is done,
I hope Medea's watching, because this will be fun...
[A piercing cry from harp and from throat,
A lifetime's anger in one single note,
Does fly through the air and one Sister smite,
Her face twists in horror, wobbles in fright.
Then she explodes in a shower of discordant song,
The others shriek -- they know it's not long,
Till justice will take them, tear and destroy,
An act of pure vengeance for the young elven boy.]
SISTERS OF THE SONG
No! Stop! Desist! Hold back your wrath!
Xalis was to blame, he chose the path!
He called us forth from this musical land,
His death was caused by his very hand!
MEDEA
Save your voices for when you're singing in hell,
Whine to the demons as the story you tell,
Of how a bard destroyed you, and ended your lives,
Sundered your souls with a song that tore you like knives.
[Another blast of music, another Sister does die,
Then to the chorus the three survivors cry.]
SISTERS OF THE SONG
Chorus spirits, stop them! Protect your kin!
For are we not by our very natures twin?
We belong in this place, both you and we!
SISTER OF THE SONG
Even let the others perish, just save me!
CHORUS
Cry no tears, for we don't care,
Your lives mean naught to us.
Just explode and fill the air,
With your screaming and your fuss.
[Three more cries of voice and strings,
Three more deaths the music brings.
The Sisters vanish, their bodies explode,
You've exacted the justice they owed.]
CHORUS
See, human and elf, look at the wall,
The barriers are tumbling, and soon you will fall,
Out of this realm, where you do not belong,
And to somewhere else where awaits you a throng,
Of friends and of foes, and the battle unfrozen,
Go dragon-rider, for this you've been chosen.
The familiar war calls on your sword,
Battle the white wyrm, and its bestial horde.
[The chorus speaks truly, the ancient hall wanes,
The windows are melting, with their glorious panes.
This time there's no tide, no wave to crest,
Soon you'll be back in the world you love best.
The place you belong, though not free from ill,
Where you body is waiting and ready to kill.]
Community content is available under
CC-BY-SA
unless otherwise noted.