Seshemetka the Cursed

unique

Troop

Legion damage:

5400


Duel power: 2000
Attack: 3000
Defense: 3000
Undead
Any
Any
Entombed: 15% chance to deal 10% damage; Extra 5% damage for every Undead General owned; Gains 600 Attack and Defense for each different Undead Troop owned; Increases the Player's benefit from equipment and mount Attack, Defense and Perception against raids by 75%; 5% chance to trigger Curse of the Mummy to reduce incoming raid damage by 50% and for one of the following effects: Drop a Cursed Bandage or deal 50% damage


Ancient tombs hold many secrets in Tor'gyyl's harsh deserts. The promise of legendary treasure and mighty foes has led many would-be adventurers to an early grave, their souls feeding the essence of those buried deep below the surface.

Though Seshemetka's origin is unrecorded, her tomb was protected by some of the most potent enchantments ever devised, and her awakening may yet prove to be the downfall of many kings and tyrants alike.

Obtained By:

Limited Time Item October 18th - November 1st 2019 for 100

Additional Info:

This general has the same image as the Clash of the Dragons Menhet.
Images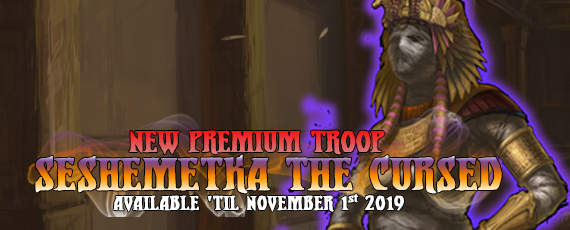 Community content is available under
CC-BY-SA
unless otherwise noted.