We're Getting Mutants in the MCU - The Loop
Play Sound
On the 2/1/2013, 5th Planet Games released the 1.0.0.0 IOS version of Dawn of the Dragons.
The Mobile Version is located on the fifth server, seperate from the Facebook, Kongregate, ArmorGames and Newsground servers. It has been designed to be played easily on both Android and Apple devices.
Basics
Below is some basic gameplay information and some info regarding each tab. This information is also covered in the in-game Tutorial.
Information Bar
The Information Bar appears at the top of all pages and displays an image of players gear which also contains player level, Health, Energy, Stamina, Honor, Experience, Gold on hand and Planet Coins.

Each can be clicked or double clicked on an offer different options, excluding Experience:
Player Image - Take you to your profile page where you can equipped/changed gear, add Stat Points, access Usable items, also contains settings which are accessed by clicking the small cog.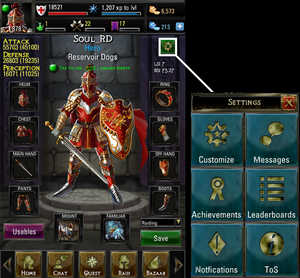 Health - Double clicking allows you to refill your health in exchange for gold
Energy - Double clicking allows you to refill your Energy in exchange for 10 an provides a link to the Quests tab
Stamina - Double clicking allows you to refill your Energy in exchange for 10 an provides a link to the Raids an PvP tabs
Honor - Double clicking provides a link to the Guild tab

Single clicking on Energy Stamina and Honor will switch between the current amount, current % left, countdown until another point is gained.

Gold - Single click will change between current amount on hand an time until more is gained. Double clicking allows you to Quick Stash your gold, which is like a bank, an Land. Land is where you buy building to increase income.
Planet Coins - Clicking on Planet Coins will open the purchase page, this page also contains a link to Tapjoy where you can get free Planet coins.
Home Tab
Home is the first page you see after log in or by clicking on Home button. It displays from top to bottom; Player Name, Class, Guild name, image of Character in current gear and notification banners.
Chat
The Chat tab contains the in-game chat which will is automatically disable an will need to be enabled in the Chat settings within the chat tab. You can add other player to your Army here, there is also the option to silence other players by clicking there names. Private Messages are possible by clicking a players name then going to there profile and clicking the message button. Enter text into the text box then hit Private to send. Also there is an option to send a publicly viewable message.
Quest
Quest tab is made up of all available quest zones an also has quest lore. There is the world map which shows each zone, each zone is made up of multiple areas which can be changed by clicking the left/right arrows or by clicking the zones name which opens a drop down. At the top of each zone is a link back to the world map. The drop down menu also allows you to reset an instance, this will only reset the quest on the current page an can only be done to the same instance once per level.
Raid
The Raid page is made up of a number of three tabs:
Current opens the two tabs below

Active - which shows all currently active raids. ie raids you have either summoned or joined. That includes stamina/energy/honor based raids
Completed - where you can find raids that have been killed or failed. This is where you "loot" completed raids

Find opens up the two tabs below

Summon - This tab also you to summon your own raids. Only one of each size can be active at any one time. Each size also has a cool down period before another raid can be summoned.
Public - This is where you can find other peoples raids that they have made publicly available

Search - Search can be used on any of the other tabs to search for raids by there name or id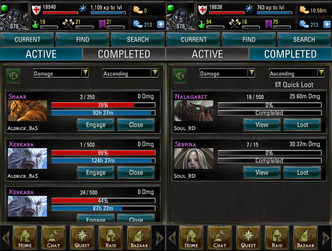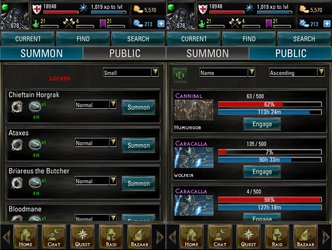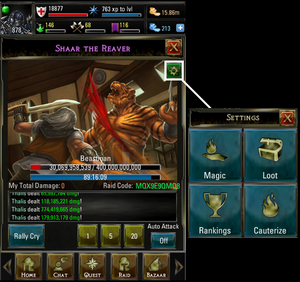 In-raid, you have basic information like precedent damages, Health and Time left. Raid Code can be given to Friends to invite them by clicking Rally Cry.
Setting button give you the possibility to see and add magic, check available loot, see rankings and cauterize the raid. Cauterize is only available on select raids
Bazaar
See: Bazaar
Crafting
Crafting page is made up of three sections:
Crafting - This is where you craft together items you have collected from raids an quests.
Citadel - See: Citadel
Enchanting - Enchanting also you to add Runes to equipment that offer different bonuses such as extra stats or a chance to do more damage.
Legion
Legion contains all the legions you have collected so far, it is also where you equip Generals, Troops and equipment for the legions commander (This is different to your profile).
Items that boost Energy/Stamina/Honor will not work on commander.
Using either two sets or different sets on character an commander will allow for both sets to proc
Using assign wont always provide you with the strongest set up as it doesn't factor in bonuses, it just adds whomever has the highest stats.
Army
See: Army
PvP
See: PvP
Guild
The Guild tab consists of the following tabs:
Invite - Invite adds an invite link to your clipboard so you can invite others to join.
Archive - Archive lists all other guild an provides a record of summoned Guild raids.
Members - Lists all current members within the guild, also provides info regarding level, last log in an Colosseum rank.
War Room - In the war room if you have a high enough rank or there is no rank requirement you can summon all Guild raids here.
Raids - Raids consists of all currently summoned guild raids, this is where you join guild raids.
Guild tab also contains a chat box where members can chat and a message wall where the guild leader and officers can add notes or info for the guild.
Settings
Settings tab contains the options to turn Music, Sound Effects an Animation on or off.
More
The More tab contains the following:
Facebook Link - Used to link your character to Facebook to allow you to transfer your account to different devices
Promotions - Provides an additional link to Tapjoy
Help - Help contains a number of pages with detailed info regarding most aspects of Dawn of the Dragons
News - News tab allows you to view the most recent announcements
Forum - Links to the Dawn of the Dragons Forum
More Games - Links to other games made by 5PG
Notes
The application was originally restricted to the Canadian App Store.
The in game tutorial can only be reactivated by completing a reinstall after it has been disabled.