| | | |
| --- | --- | --- |
| | This content is the same for both the web and mobile versions of Dawn of the Dragons | |
Demon Slayer's Set
is a set of 5
Epic
items. It is
Epic
loot from
Echthros (World Raid)
.
The Set
Full Set Bonus
Stat Bonus

Attack

475

Defense

475

Perception

250

Health

none

Energy

none

Stamina

none

Honor

none

PVP Bonus

Power

none

Damage

none

Deflect

none

Raid Attack Value: 593.75
Duel Power: 475
Lore
I. In the distant age when the first great cities of man were as yet unbuilt, long before even Terracles walked the face of Tor'gyyl, primitive tribes warred across the land that would become West Kruna. Theirs was a fierce and savage existence, each people knowing their doom might lie just beyond the horizon - that a single attack from a powerful rival could wipe their blood from the face of the world.
II. A shaman sat upon his mountaintop, the place where he came to meditate beneath the gaze of the majestic heavens and ponder the mysteries of creation. It soothed his mind to look out upon the sweeping expanses his people called home, and watch the rivers rush across the land. But on this day his expression became grim, as he saw a great host darkening the distant plain. The Black Wolf tribe had come.
III. Death followed the Black Wolf tribe with greedy eyes, for the path behind them was one of dismembered corpses and flocks of bloated vultures. The shaman knew that his people would meet the same fate, for though their warriors were strong and brave they were not so mighty as the Black Wolves. Thus he drew upon his powers, the esoteric knowledge that had been passed down to him, and turned to the darkness.
IV. Echthros, a great fiend of the infernal realm, heard the shaman's call. He came to the summoning circle, and promised death for the Black Wolves. In exchange, he demanded an oath bound with blood - a vow that on an agreed upon day the demon would be allowed to return to the mortal world, and claim anything which belonged to the man's descendants. The shaman hesitated, for he had no wish to doom his children or grandchildren - and buy his survival with their destruction. But when Echthros named the day on which he would collect his debt, the man laughed. For it lay far in the dim and distant future, across a gulf of time inconceivable to mortal minds. So he accepted, and the Black Wolves perished.
V. The shaman was dust, along with his tribe, when Echthros emerged in the bowels of the world. The time had arrived for him to claim his prize, and a magnificent one it would be. For the man's blood lived on in the loftiest places, and King Jamus himself was one of his line. The demon grinned as he rose from the lava. West Kruna would be his.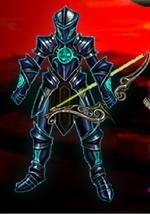 Community content is available under
CC-BY-SA
unless otherwise noted.