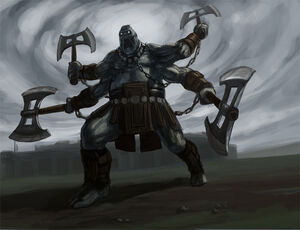 Description
Briareus the Butcher is the
first
boss encounter for
Fallows
(Area:
Rubicar River
). As with all bosses, Briareus the Butcher can also be battled in a
raid
with 4 available levels:
Normal
,
Hard
,
Legendary
and
Nightmare
.
Loot
Lore
Enter battle
Lore
The battle is fierce. Those of you who crossed the bridge have been engaged in brutal combat, and the newcomers have themselves been through quite an ordeal. Crossing a neck high river in full armour and then charging into battle must have been gruelling. Your bodies are already weary and battered, but Medea's song and Roland's war cry ring over the din of the clashing steel, filling you all with the strength to endure.
At first the enemies are pushed back, demoralized by the appearance of new foes and the sudden attack at their flank, but they soon close up their ranks to meet your assault. Battle line smashes against battle line, an immense scrum of straining flesh and lashing steel.
In the middle of the enemy line looms a mighty figure, even larger than the Ogre you fought atop the keep in Burden's Rest. Four muscular arms extend from its broad chest and each ham-like fist clutches an axe so large that most men couldn't even wield it with both hands. These deadly blades sweep through the air, scattering all that go before him. He's their bulwark, his very presence strengthening their line and urging other creatures on to attack with renewed vigor. While he stands tall, the result of the battle is uncertain.
You don't even have to tell Solus what to do. He anticipates your command and leaps at the monstrosity.
Victory
Lore
The Ogre falls backwards into the massed ranks behind him, the monsters there screaming in protest as they find themselves crushed beneath its bulk. Your companions are quick to exploit the gap in their line, filling it before the enemies can close ranks, driving themselves into the midsts of their formation, tearing it apart like a cheap garment.
Some of the creatures die where they stand. Others are pushed into the river which soon runs red. When a formation breaks in such heated combat, only annihilation awaits its members.
You give your companions a little time to rest and tend to their wounds. Then you turn to Fallows and embark on the final leg of your journey.
Flee/Defeat
Lore
The abomination's four axes drive you back with their cleaving swings, forcing you to retreat. The other bestial creatures cheer, roar, and cackle at their champion's victory. For now they control the battlefield.
Additional Info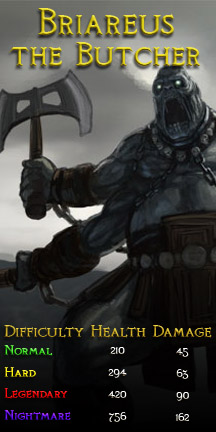 References
Briareus the Butcher is named after one of three Hekatonkheires (Hundred-handed, fifty-headed giants in Greek mythology) Briareus the Vigorous.